In today's digital age, where most of the shopping happens online, having an online store is a must for all businesses whether you are a micro, small, or medium-sized enterprise (MSME). Nevertheless with a plethora of options available, choosing the right e-commerce platform can be a daunting task. 
To help you make an informed decision, we've prepared this comprehensive guide for you to be able to select the best ecommerce platform for your online store to be on.
According to Statista, in Singapore the eCommerce market revenue is projected to reach US$5.84bn in 2023 (Source: Statista). Irrespective of the industry, if you are in the business of retail, an ecommerce website can help you get a share of this growing pie.
Now, to grab the share of the pie, you would need to build your ecommerce platform and thus, we are here. You can use our guidelines to choose the best platform suited for you to set up your ecommerce store on:
Identify Your Business Needs and Goals
Before diving into the various e-commerce platforms, take a step back and evaluate your business requirements. What are your short-term and long-term goals? Are you in the beauty, fashion, food and grocery, or service-oriented industry? Knowing your niche and specific objectives will help you make an informed decision.
For example: If you run a fashion boutique, your platform must support high-quality images, multiple product variants, and an easy-to-navigate layout.
Consider Your Budget
Budget is a crucial factor for SMEs and MSMEs. Different e-commerce platforms offer various pricing structures. Some charge monthly fees, while others take a percentage of your sales. Calculate your budget and choose a platform that aligns with it.

For example: If you are just starting your ecommerce journey, you might start with the transaction model at Shopmatic. And, if you are an established business who is looking to make greater impact you might start with the subscription model.
 Evaluate Ease of Use
Running a small or medium-sized business means you may not have a dedicated IT team. So, choose a platform with an intuitive user interface and robust customer support and you should be able to manage your store easily without any technical expertise.
For example: If you are a non-technical person, you should choose a platform that can help you create your website with pre-enabled templates. As it makes it easy for you to build your website without coding.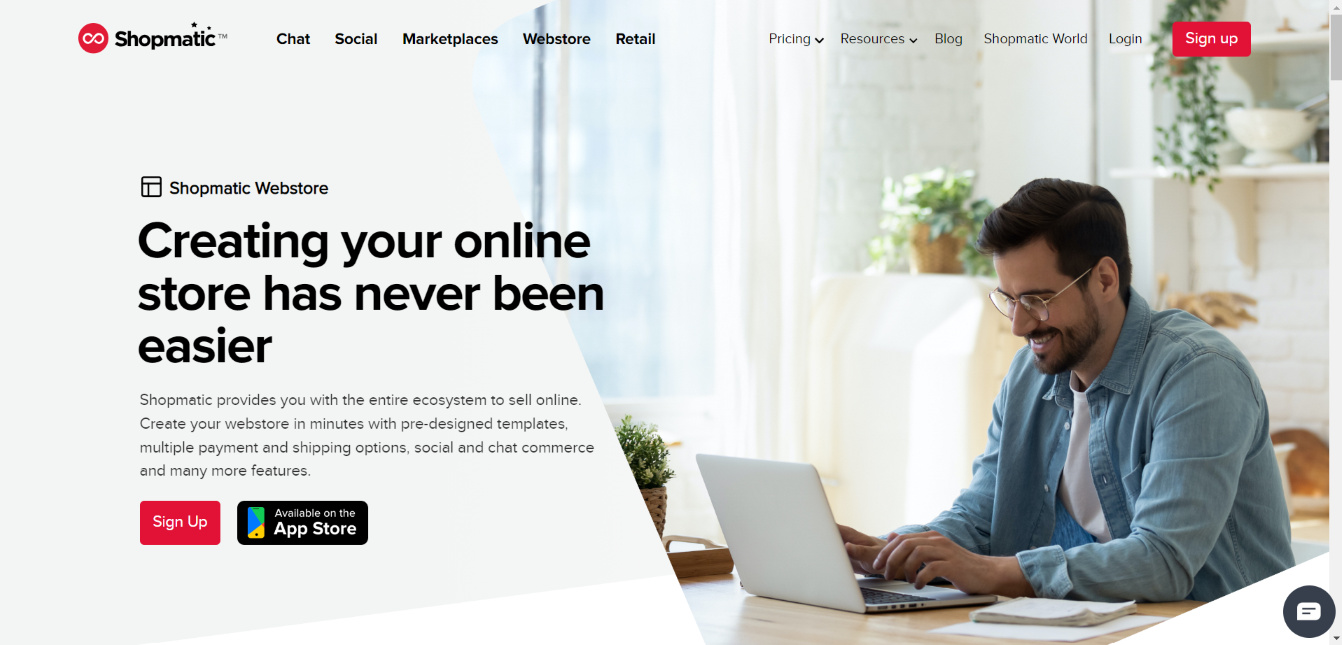 Customization:
Evaluate how customizable the platform is in terms of design and branding. Your online store should reflect your unique brand identity. Look for options to customize templates, colors, fonts, and layouts to create a visually appealing and cohesive brand presence.
For example: Shopmatic has more than 60 templates that you can choose to make your website and plethora of options to make it showcase your uniqueness.
Mobile Responsiveness
According to a survey by Rakuten Insight, 84 percent of respondents in Singapore stated that they made online purchases on their smartphones or mobile phones in the past three months. In comparison, 36 percent of respondents said that they made such purchases on their laptops. (Source: Statista)
With the rise of mobile shopping, your e-commerce platform must be mobile-friendly. Check if the platform offers responsive design templates to ensure a seamless shopping experience on smartphones and tablets.
For example: Look at how Amazon mobile app and website adapt seamlessly to different devices, offering a convenient shopping experience for customers. You can achieve the same with the Shopmatic inbuilt responsive designing which ensures that when you design your website for laptop, it seamlessly adopts for mobile and tablet screen too. You can see how it looks while in the website editing mode and be assured that your customers will have a seamless experience.
Payment Gateway Options
Consider your target market and their preferred payment methods. A versatile platform should support various payment gateways, including credit cards, digital wallets, and local payment options, to cater to a diverse customer base.
For example: For Singaporean businesses, platforms like Shopmatic offer a range of payment options, including Shopmatic Pay, and Stripe, to suit local preferences.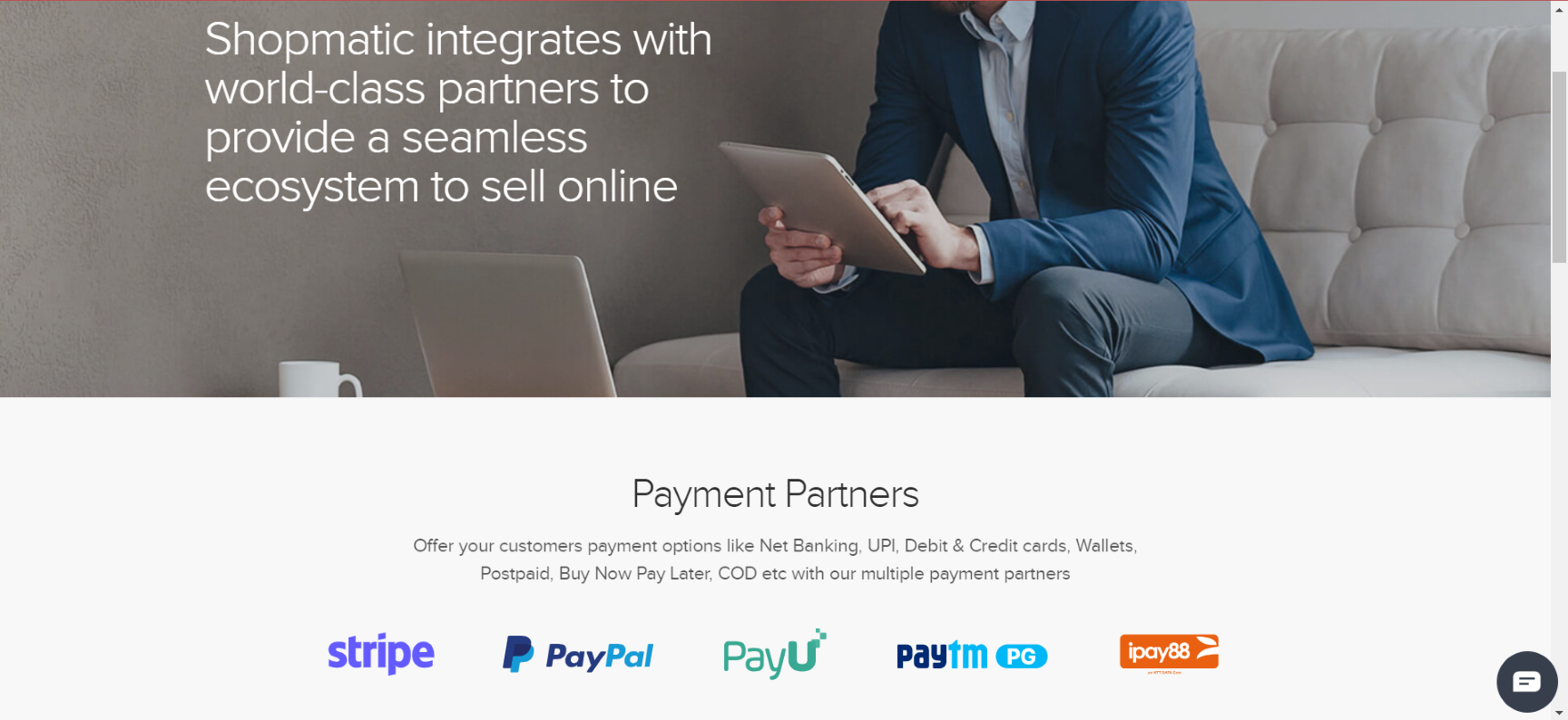 Scalability
As your business grows, your e-commerce platform should be able to scale with it. Ensure it can handle increasing traffic, product listings, and transactions without compromising performance.
For example: Amazon, a global giant, manages millions of products and customers daily, showcasing the scalability of their e-commerce platform.
Shopmatic allows you to update a list of products in a click by uploading their CSV files. So, whenever you need to step up, Shopmatic has your back!

SEO Features
We all have heard about this in countless videos and already know how important SEO is. To have your website rank higher on Google and to attract more organic traffic. You need to choose an e-commerce platform that has robust SEO capabilities. This includes customizable meta tags, SEO-friendly URLs, and a sitemap generation feature.
Inventory Management
Efficiently managing your product catalog is crucial. Look for a platform that allows you to add, edit, and organize products with ease. Features like bulk product uploads, customizable product variants (size, color, etc.), and automated inventory tracking can save you time and prevent over-selling.
Try Shopmatic that allows you to upload your product list on the website by just uploading the CSV files of the products.
Customer Support and Resources
Think about the accessibility of customer service. It can be really helpful to have 24/7 support available, especially if you run into technological difficulties.
Search for a platform that provides learning materials, guides, and a knowledge base. This will enable you to solve issues on your own and utilize the advantages of the platform to their fullest.
Load Speed and Performance
It is a well-known fact that slow-loading websites can deter customers. Choose a platform known for its speed and performance. Tools to optimize images and content delivery can help maintain fast page load times, enhancing the user experience.
Do you know that Shopmatic has a PWA technology in their webstores that makes the webstore faster and lighter? Thus, allowing it to be accessed even when your customers have an unstable internet connection.
Security Measures
Security is non-negotiable, especially when you are handling customer data and transactions. It would be wise for you to choose a platform that provides SSL certification, regular security updates, and data encryption.
For example: Shopmatic is renowned for its robust security measures, making it a trustworthy choice for businesses of all sizes.
User Reviews and Testimonials
Lastly, before making your final decision, research what other businesses in your industry are using. Read user reviews and testimonials to gain insights into their experiences with different platforms and why they chose the platform they are with.
Conclusion
In conclusion, choosing the best ecommerce platform for your business is a crucial step toward online success. By understanding your business needs, budget, and industry-specific requirements, you can make an informed decision. Don't forget to consider factors mentioned above and leverage the experiences of businesses in your industry to guide your choice.
With the right e-commerce platform, you can boost your online presence, engage your target audience, and drive growth. Remember, the right platform can make all the difference, and we are here to help you find your perfect fit.
Good luck on your ecommerce journey! Happy selling! =) 
Get free online marketing tips and resources delivered directly to your inbox.