Good copy is a compelling salesperson
Everything you put in words on your online store is copy. All of it.
This could be the name of your product, its description, a call out to a visitor, what your customer reads as they checkout or just the words that come up when they first enter your online store.
Your words speak to your customer on your behalf so wouldn't you want to make the most of this opportunity to form a genuine and lasting connection?
Writing for an online store is very different from writing for print.
You engage digitally with your customers in four different stages during their online buying process. These are the stages of Awareness, Consideration, Conversion, and Evaluation. Your copy should reflect an understanding of the difference between interaction and transaction and should be relevant for each of these stages.
Studies now show that over half of the visitors that come to your page will spend less than 15 seconds looking at it. This means you have very little time to grab their attention.
How to write

attractive and conversion creating content? Let's look into it:

Here are some of the challenges to overcome –
Short attention span of readers

Clutter and distrust of sales-y messaging

Too many channels for information

Too much information about anything and everything

It stands to reason that what you need is a concise copy;  powerful and cleverly written words.
So what does that mean?
Well, there really cannot be one answer to that. However, there are some general considerations to keep in mind that will serve you well and help you create more impact with your messaging and copy. Read on to know these  
1. It's not about YOU!
What? You might ask. Well, what this means is that no one is interested in knowing how good your product or service is no matter how good it really is. Rather, write about an aspect of the product that could improve your readers' lives instead; for example, how much time it can save them, how it can help cut costs. In other words, start a conversation.
2. No self-serving sales pitch to promote your product, please! Instead, online writing should speak to your audience in a relatable way that shows you understand what their concerns are. For instance, share their problem and provide them with a solution to their problem
3. There is a rising cost for consumer attention so create an identifiable advantage; preferably something unique about your product or service; and express it in simple short phrases.
4. Be authentic and empathize;  this means you really must think about who your target audience is, and then write about what's important to them. Show your human side; it makes you and your brand more relatable.   
5. Show your natural personality and keep it consistent; that is to say, have a similar theme that emerges through your message as well as in the tone you use. Check to see it is true through each section of your website and overall devices as well.  
6. Write to empower, not overwhelm. You will build trust in your business by putting the power of choice and understanding in your customer's hands. Use an active voice to build that connection and engage directly with the customer.
7. Keep it simple. It is the simple phrases and words that will build excitement, impact with trust. Avoid acronyms or very local language in most cases. The internet and your website is accessible all over the world and it needs to be universally understood if you'd like to be future-ready too
8. Organize information and details practically – by model or product. Remember to stay vibrant with words though. Being organized need not be dull! Choose vivid words to describe your product. Try not to weigh down the content with extensive technical descriptions that may be hard for the typical consumer to understand.
9. Create potential for action. This is known as a CTA or call-to-action. For example, after you explain to your reader the advantage of buying your product and how it can help them, conclude with urging them to 'Buy Now' or "Make the most of the discount now'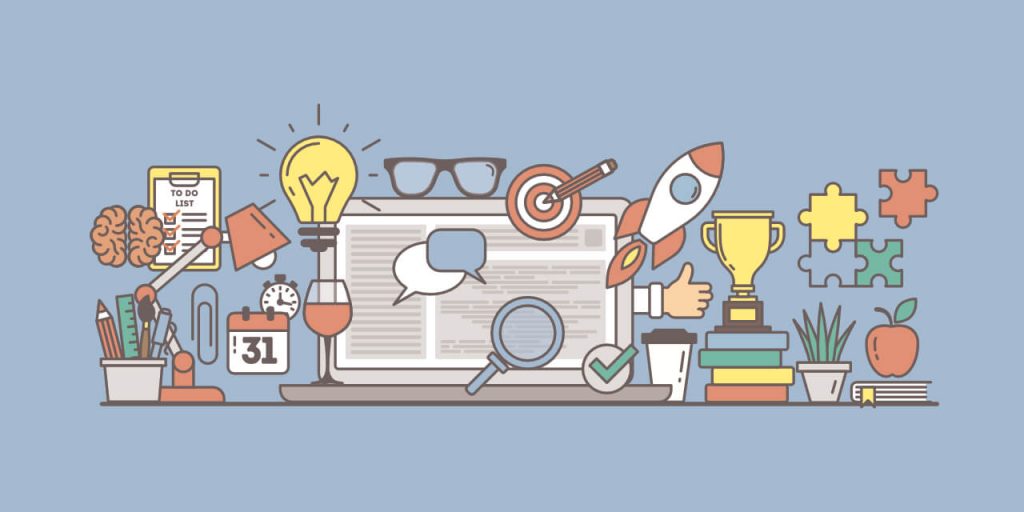 If in spite of your best intentions, however, you feel stuck sometimes; don't fret!
Here are some tips for extra inspiration and ways to engage with your customers.
Turn questions and comments into content for a blog

Invite others to interact or contribute especially to write reviews for you

Stir curiosity and ask for a response to an email query

Thank Your Reviewers and start a conversation with that

Delight your customers by writing out a small back-story about your product,
BE INNOVATIVE; BE ORIGINAL. You are the best brand ambassador for your business after all. 
If you're looking forward to expanding the presence of your brand online, you can use an ecommerce website maker to create a space for yourself in the online world.
Get free online marketing tips and resources delivered directly to your inbox.