What would you expect if you walked into a store towards the beginning of the year in South East Asia? Decor that cheerfully reminds you of the approaching Chinese New Year; that's what! 
It's a time when people are full of excitement and joy. And this is exactly what you can offer to your audience in the online space as well. Read on for some ideas to get you started 

1) Switch to a Festive Slider on your Homepage
Make it obvious as they enter your online store. Your homepage is the first place your customers encounter when they visit your store site for the first time. 
Replace your regular banner with a festive banner or add an element of festive cheer to your slideshow. If you are offering special Chinese New Year products, then you could even create a new one to reflect that.
Adding that festive slider is an excellent way to get into the holiday spirit. 
2) Add a special announcement or Pop Up
Use the announcement bar on your website to communicate your festive opening dates/times, cut off dates for orders, any special festive sales or delivery announcements you want to make. Consider adding a small, festive CNY graphic pop up to the corner of your website to liven things up if you can. 
Ideas for this image can be something small and fun like Chinese red lanterns lights, upside down Fu characters or blooming flowers.  
3) Make your Festive offers clear 
If you offer a sale or special deal for the end of year, you should pay attention to where you place them and the words you use to announce them. Research most used words and don't forget to update your SEO accordingly for the season for these too. Festive offers are best announced front and centre on the homepage of your website. 
4) Create a cohesive look on your website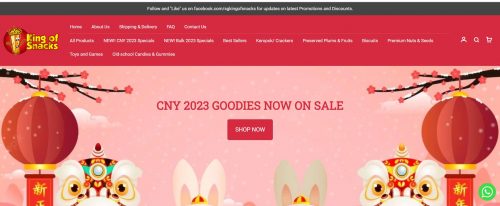 Once the Homepage is set, you should pay attention to taking the theme along your entire store in a cohesive manner. Perhaps you could add a pattern as a background on every page or change the background colour with a different template to make it more eye-catching. Don't neglect the sidebars, icons, and buttons on your pages. 
5) Design a CNY logo 
This doesn't have to be too elaborate. Perhaps add an element of colour or a fun element like a Chinese lantern to your existing logo to illustrate that this is a special time for your store. 
6) Pay Attention to Important Housekeeping 

Update your products, services and product descriptions
If you have CNY products or special services for the season, update the page with relevant text and updated photos. You might add 'CNY stock' or 'season's collection' to convey this to visitors 
Update your SEO and Keywords
Include words like 'Gifts for CNY' or others that are relevant and searched during the season. Use these Keywords in blogs and social media posts to increase organic reach as well  
Update your Email signature
Keep all communication cohesive using the same logo, pop up, information, and messaging so it is easier to recall your brand across social media platforms, email and even online greeting cards for the season 
Other things you can do to maximize the opportunity for sales that this season provides – 
Offer the chance to personalize your products and services where possible 

Offer special festive bundles that promote cross selling or upselling of your products 

Offer attractive shipping options or free shipping if possible 

Offer free Gift wrapping services and personalized cards to buyers

Reach out to your email subscribers with information on all you are doing at your online store; create a buzz for the occasion

Create social media posts for Facebook and Instagram to wish your fans and followers 

Support a cause or charity and spread some real cheer during the season 
Have some fun yourself this season! 
Get free online marketing tips and resources delivered directly to your inbox.