While social media is a great way to expand your reach, email marketing is what drives sales. And when 59 percent people claim that marketing emails have influenced their purchase decision it is time you take this aspect of marketing seriously. More so when the number of active email accounts is expected to hit 5.6 billion by 2019.
Out of all the promotional emails that are sent out, around 85 percent of them reach the target audience's inbox. This means that the chances of your customers seeing your brand's name or reading about your product is higher through email marketing. The same cannot be said for social media marketing where the chances of your post even reaching your target audience is relatively lesser.
One of the prime reasons why emails have a higher conversion rate is because subscribers are interested in receiving news about your business and therefore have completed the process of submitting their email address and then verifying it. They genuinely want to know more about your business, thus making it an ideal form of marketing to boost sales. And the best way to leverage email marketing is to start with – email list building!
 1. 

What is an email list?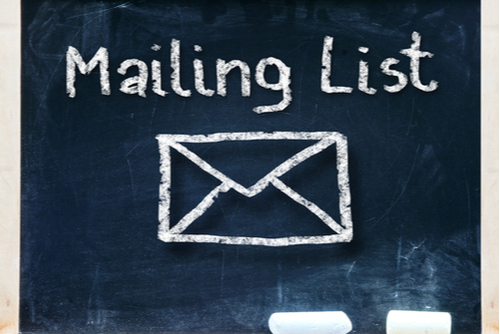 We often come across websites with an option of signing up for e-mailers and newsletter to stay updated about their products, services, etc. Email lists are built out of these.
The list of email addresses a business gathers from website visitors and customers who would like to receive information on discounts, product updates, and other details about their products or services, in a digital format, is called an email list.
An email list is helpful when you want to send any one of these,
A welcome email thanking customers for subscribing to the emailers, for making a purchase, etc.

Emails with discount coupons, special deals, free gifts, etc.

Survey or review emails

Blog Posts, tips, etc.

Abandoned cart or product availability email

Announcement of new products, services, etc.
While other platforms give you the opportunity to sell a product, they do not let you build a connection with the end-user. Having an email marketing list that is completely authentic is critical as you cannot build your business's content on rented land, i.e. social media or online selling platforms. Also, personalized emails have 6x higher transaction rates as they allow you to engage with the audience in a way other platforms cannot. A survey also found that emails have been 40 times more effective than social media to acquire new customers.
2. How to build an email list from scratch, fast?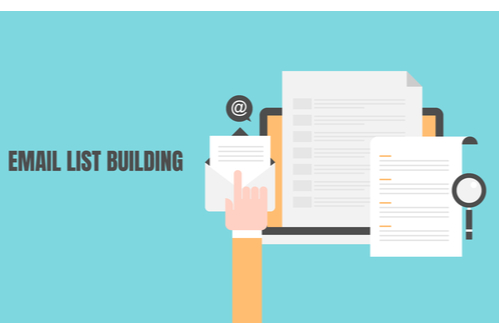 You will find people who use deceptive practises to build an email list mainly by purchasing email subscribers. While this sounds an easier way out, it is ideal to have a list of people who really want to hear from you. Unless you have that, there is no point in sending out emails to random people who are not even your potential customers.
Let's take a look at a few of the best practices useful for building relevant and free email lists for marketing.
Segment the audience:

 In order to deliver highly relevant emails to the end audience, whether to boost sales or simply increase brand awareness, it is important to segment the audience based on geographical location, age, gender, etc. You can also segment the audience based on the email update preferences chosen by them such as discounts, new product information, etc., or by tracking and analysing their purchase history. A study revealed that

segmented and targeted emails generate 58% of all revenue

if done right as segmentation helps personalize communication, keeping it direct without wasting the reader's time. You can also do so by creating more landing pages that answer individual concerns or address a specific interest.
Create a personalized call-to-action (CTA):

 

Every page of your website or landing page serves a specific purpose that meets the unique need of the visitor and the CTA for signing up for a newsletter or emailer should reflect the same. This will further help you segment the audience and send out personalized emails based on their preferences. However, personalized CTA works only when you have the resources to create quality content to match the subscriber's expectations. The content that you plan for email marketing strategy need not be time-consuming or expensive. From a toolkit to an eBook and from a fun quiz to an exclusive report, there are many ways to further engage the reader.
Be upfront and set email list-building expectations:

clearly so that your user knows what they are signing up for. No one likes to stay in the dark, especially when it is about entering the private space of their inbox. A simple 'sign up for our email list' is likely to fall flat on its face. Instead, inform them if they'll be getting survey emails, discounts, blog posts, insider information, etc. so that you eventually build a list of email addresses that are sincere.
Add popups for email capture forms 10-15 seconds into the website:

 A few seconds into the website and there are high chances that the visitor might have found something interesting. Prompting them for an email sign-up with an interesting CTA especially that has some humour or sarcasm in it can be fruitful at this point. It can be as simple as coaxing them to sign-up for some additional material to help understand the product/service better and in detail, or to receive a discount coupon that can be used while checking out (in case you have an eCommerce website). However, make sure that the offer isn't irrelevant compared to the information available on the webpage. The pop-up should be a part of the user experience adding further value.
Make your email marketing campaign valuable:

 

It might be easier to get a new subscriber but equally difficult, yet important, to keep them around and ensure they do not unsubscribe. The best and probably the only way to ensure this is by delivering content that adds value to their life by solving their problems and increase their dependability on your brand for significant news or updates related to their interest in the future. Whether you are offering eBooks, free tools or blog posts, what matters is the quality of that content. You can also achieve this by analysing the actual search queries that resulted in people landing on particular pages of your website to create content for the emails along with a more hard-hitting CTA.
Get free online marketing tips and resources delivered directly to your inbox.